The Black family were enthusiastic hosts on Wednesday 8th May where we had 140 pupils from 5 primary schools Dunbog, Castlehill, Letham, Springfield and Ladybank.
The sessions were:
Diversification with Anna Black talking about what they do at Lindores with equestrian and holiday homes as well as conventional farming.

Woodlands with Iain Moss of the Woodland Trust

Cereals with Richard Black and Lindores Abbey Distillery who use the Blacks barley for their whisky

Fruit and Vegetables with Jeff Layton of Berry Gardens who talked about soft fruit production and vegetables which were supplied by Kettle Produce.

Jenny Brunton & Kate Maitland of NFU Scotland talked about Take A Lead Campaign which is extremely topical just now with ewes and lambs in field all over the country.

Gavin Maitland was on the beef cattle and discussed how to look after them throughout the year and all the different elements farmers must comply with.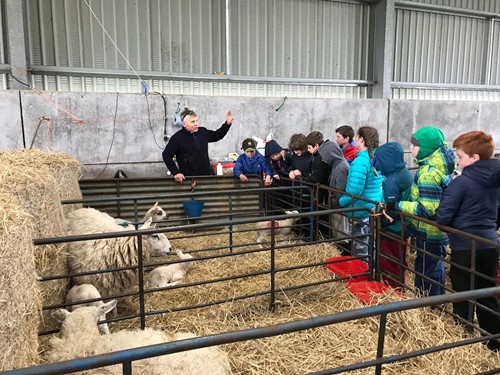 Russell Ferguson was in the lambing shed with the ewes & lambs, and discussed with the children how important it is to look after the lambs in the first dew days and to make sure they had colostrum and their mothers were able to look after them before they were put outside in the fields.

Ronnie Black of Collessie was there with "Jennifer" the champion Clydesdale who was a huge hit with the children and adults alike. Ronnie talked about farming through the ages and how important Clydesdales were in farming before tractors.

Angela Mill was butter making and talking about dairy farming and we were delighted to see so many pupils drinking milk and most of them whole milk!

Steven Player of Reekies, Cupar had an interesting discussion with the children about the use of tractors, combines and quad bikes on farms. The children were amazed at the size of the machinery.
We would like to thank the Black family for hosting and feeding the volunteers, the volunteers who came along and took groups round and the people who took the sessions on the day.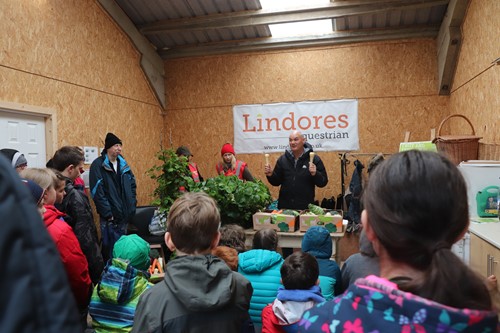 Despite it being a wet and cold day – everyone enjoyed had a great day.